Switch to:
EN
Português (PT)
If there is one thing that travel industry analysts agree on is that the business travel sector will recover from the Coronavirus outbreak before its leisure counterpart. The prevailing argument is that corporate travel is vital to opening the economy – it stimulates investment, collaborative entrepreneurship and decision making. It also comes first in terms of the real market needs.
At the same time, it is also widely perceived that the corporate travel market is poised to undergo fundamental changes. The ongoing digitization of the travel industry, more profound use of online conferencing, and post-Covid trauma on commercial aviation market are just some of the trends likely to impact the work of corporate travel managers in the coming months. In the below article I highlight three trends that business travel managers should consider when creating the next itinerary for their teams:
Shorter workweek, flexible working hours
Poised to reduce costs and allow for greater work freedom, large corporations will be more open to creating a culture of innovation in the workplace. In fact, the recent Gartner survey revealed that up to 74% of all CFOs will be now keen to permanently shift employees to home office mode. Free Friday policies and flexible working hours will complement the new corporate reality.
In practical terms, this translates to longer weekends and a higher concentration of travel in the workweek between Monday and Thursday. Throughout the day, we might observe a more equal distribution of travel, with late-morning, noon, and early-afternoon now responsible for a significant chunk of travel time. With flexible working hours and a fear of overcrowded airports, we can expect the airlines to offer a well-distributed flight schedule, with lower variation in prices, but higher average ticket price.
Self booking, self check-in and automated reimbursement
Corporate travel officers must adapt to growing popularity of online booking tools (OBTs) and integrations they offer. Platforms, such as Argo / Amadeus must be properly incorporated into the day-to-day of their roles, with travel officers increasingly acting as facilitators and digital catalysts within large organizations.
Reimbursement tools, whether those available within the OBTs themselves, or stand-alone tools such as Expensify, will become definite standard for expense management.
High demand for business jets an helicopters
High demand for private flights, combined with low prices of oil will stimulate the demand for business aviation services, on both domestic and international markets. In fact, the business aviation industry's leading spokesmen all agree that in the post-Covid era we will see a large spike in charter requests, jet card sales and fractional ownership deals. With commercial aviation at its historical low, presidents and board members will turn to private jets and helicopters as their preferred travel options.
The cost of a private jet charter will vary depending on the type of the aircraft, the country, or the duration of the flight. For additional information, please refer to this article: How much does it cost to charter a private jet.
Final considerations
As someone once said, Travel is a megatrend and nothing can stop it. In the past history, the market had proven its ability to recover to pre-crisis levels numerous times and this time won't be different.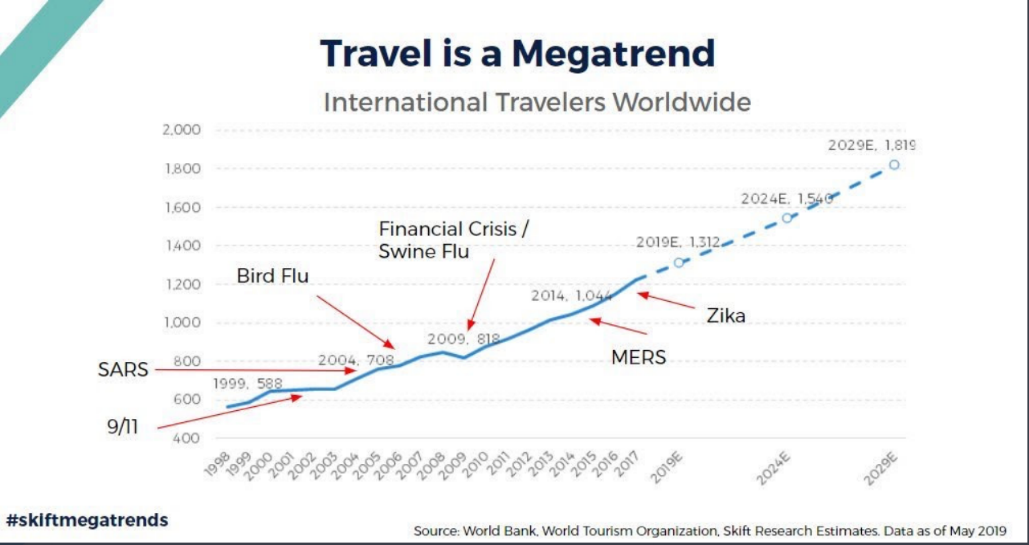 What differs is the scale of the current outbreak and the level of connectivity we attained a humanity. The travel sector is hence poised to emerge more digital and vertically integrated.
Travel officers face a unique opportunity to adopt new approaches in the design of business travel. The current outbreak should stimulate the review of the present travel policies, restrictions, safety protocols and software used. Companies that survive and implement necessary changes will emerge stronger and better prepared for the uncertainty that the current environment has created for travelers and business people alike.
About Flapper
Flapper is Brazil's first boutique private airline, and a regional leader in charter flights. Our partner fleet counts 350 ANAC-certified aircraft in Brazil and more than 4000 overseas. We excel at VIP flights, cargo transportation and ambulance flights.
Our services:
On-demand charter of jets, turbo-props and helicopters in Latin America.
Charter flights and part-cargo of medical supplies and heavy materials.
Transport of banknotes, lottery tickets, jewelry, fine arts and others.